Pregnancy complications around the world
1
Stillbirth every 16 seconds
18%
Depressed during pregnancy
21%
Moms-to-be with serious anxiety
1 in 6
Birth affected by gestational diabetes
New research suggests that mindfulness practice can protect the health and well-being of mothers and their babies
A sneak into our wellness solution
Mom
IVF Pregnancy
Normal Pregnancy
Gestational Diabetes
Gestational Hypertension
GIT Discomfort
PGP
Sciatica pain
Spinal mobility
Hip opener for birth
Anxiety reduction
Core & pelvic strengthening
Reduce Swelling, back aches and increase blood circulation
Baby
Baby's umbilical cord & placenta
Bond with baby
Encourage movement
Baby's normal growth
Baby's kidney, brain & lung development
Facial feature development
Normal development of hearing & vision
Dad
Bond with Partner
Connect with baby
Exercise with partner
Track the pregnancy journey
Connect with Family tree
Parents message to baby
Affirm with partner for smooth delivery
Quick healthy recipes for the partner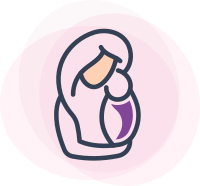 Prepare for childbirth with our safe prenatal yoga stretches & wellness plans for a positive & normal delivery.
You'll learn to cultivate attention, awareness and relate to every aspect of your pregnancy that protects the health & well-being of you & your baby.
Fill and fuel your nutritional needs within minutes with our tit-bit healthy recipes and get weekly nutrition focus & tips.
Mom's Fitness
Increase your mobility and flexibility, manage healthy weight gain and strengthen your core for a fit pregnancy & postpartum.
Baby's wellness
You can now find scientific ways to bond with your baby & track their weekly growth through our app.
For Dad
Exclusive wellness plans, checklists, partner workouts & more to ensure the dad's are well-prepared to support the spouse & are set for the new journey.
Getting Relief
Get relief from your pregnancy discomforts through our wellness plans for gestational diabetes, hypertension, varicose veins, morning sickness & more.

De-stressing
Get mindfulness tools to navigate your complex emotions, relieve stress & lift your mood with just a few minutes of practice every day.
Is our wellness plan safe & best?
Yes, It is! Our workouts, affirmations & guided meditations are created by certified and experienced prenetal experts .
Review by board of doctors in India & overseas.
Official Aerobic Zumba Instructor

Certified Pilates Instructor
Certified Yoga teacher – UK
Certified health & fitness expert from the Indian Institute of sports & medicine, India.