You've been hearing for centuries on why pregnancy is fruitful, but let me tell you the truth. Pregnancy is of course a wonderful journey but it's also an overwhelming experience for expectant mothers with so many things to keep track of, from your baby's growth to your own health. In the midst of all that, looking at those incredibly expensive fertility treatments can make you feel overwhelming.
Relax, you have good news!! Not everyone needs fertility treatment to get conceived.  Most of the time, plenty of free options available online itself can easily help you in navigating your journey to parenthood. Sounds interesting right? Let's discuss in detail here.
Tips to increase your conception chances :
1. Get to know your fertility like a pro :
You can easily do this by tracking your ovulation and menstrual cycle. Ovulation prediction kits, basal body temperature charts, pregnancy apps all of these can help you understand when you are most fertile. When you do so, jump in right away and hit the clock, and you can increase your conception chances with less efforts.
2. Step up your game- Make simple lifestyle changes : 
This can be the most overrated yet, difficult to follow routine. Most of the fertility problems will come to an end, when we make required healthy lifestyle changes including, having a right diet, getting regular exercise to keep yourself active, avoiding excessive screen time, stress, junk, smoking and alcohol.
Following these practices is not just important for your fertility health, but it is, for your overall health and well-being as well. So take steps to make these habits a part of your life rather than just following in a particular period.
Moreover, this isn't going to cost you anything, if you are self-disciplined to make this practice a part of your routine.
3. Prioritize your pre-natal care, Mumma :
Pre-natal care can also be expensive but there are ways to save money, while still receiving the care you need.
Find pregnancy apps that help you track your pregnancy progress, due date, baby's development week by week, doctor appointments etc. It should make your pregnancy, stress free and easier.


Reliable and accurate health information on pregnancy and childbirth is important. Though, your Gynecologist can help you with it, you need more self exploration, to receive the right knowledge at the right time. Search for blogs, articles and resources from authentic websites to keep yourself informed.


Join a community with fellow expectant mothers, who are going through similar experience like you, a place where you can express and feel heard at the same time, laugh, cry and share.


Reminders have become an important part of our daily life in anything we do. In that case, we would definitely need someone to remind ourselves of all those checkups, important appointments most of the time, even to have a sip of water or take up medications at the right time during our pregnancy.  Apps have replaced humans in this busy life and made things much easier as well. So, why miss a chance to look for one?
Get your free Pregnancy health Companion: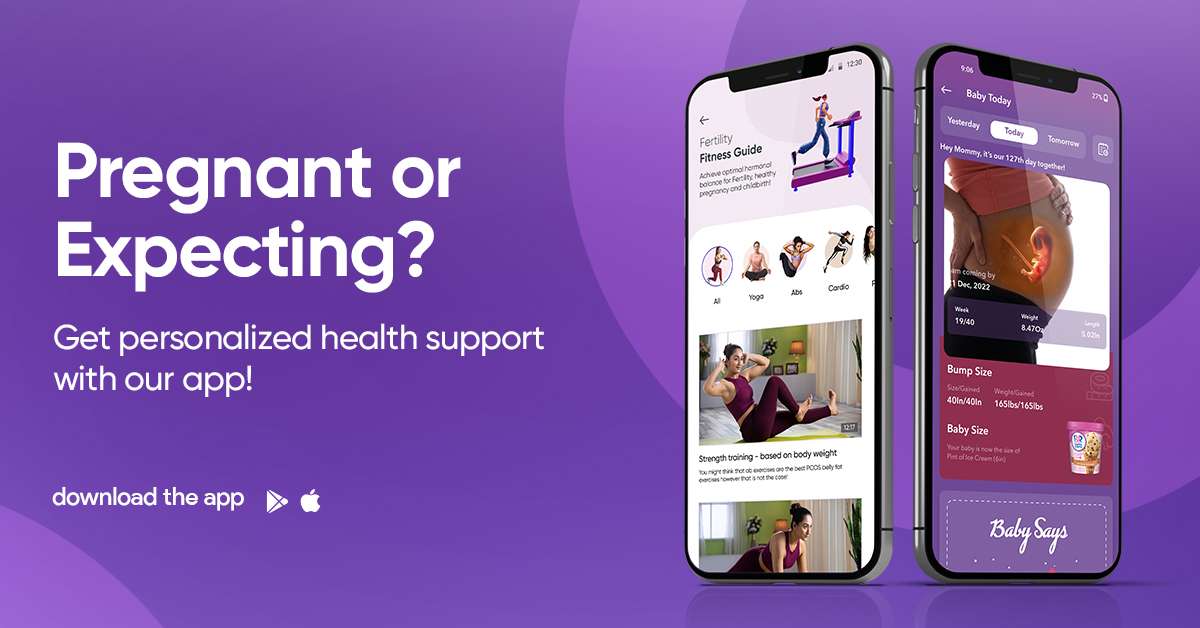 We have already discussed a lot and many of us might be feeling tired reading all these tips because, I know putting something to action is more difficult than suggesting them. And if we need to look for everything from different sources, it's going to be time and energy consuming again.
Don't worry, I have a solution for you. Would you believe that, you can now get access to everything mentioned in this whole blog, just from one platform and that too for free of cost? Doesn't it make your life less stressful now when you think of your pregnancy journey?
Yes, Mind&Mom app has everything you need whether you're trying to conceive or pregnant.
What's more interesting is everything designed here is actually personalized based on your own needs from time to time. That's what makes it special and 2,00,000 million women already started believing as it would make pregnancy a fruitful and memorable experience.
More than 60% of women who have been using this app have had successful pregnancies and a healthy baby.
What's for you?
You can get access to tons of proven to have helped resources including safe pregnancy exercises from experts, pregnancy/ ovulation/ baby growth trackers/ reminders/ experts advice/ healthy recipes/ Mindfulness practices like meditation, affirmation, health checklist/ To-do list for every trimester/ blogs/ tips/ pregnancy essentials and the list goes on.
Download the Mind&Mom app now, and start experiencing all of these and more for free.