I understand your curiosity. You want to be in tune with your body and want to know what's happening inside as much as you know about the outside. So you wanted to explore fertility and started digging to know the story of your eggs. Let me help you in exploring the eggs in detail and answer your query, 'How many eggs are present in the embryo?'
How Many Eggs Does a Woman Have at Birth?
If you are a woman, you are born with eggs between one and a few million. That is everything you can have this lifetime and your body does not produce any more after birth. 
Oocytes are immature eggs that are contained within follicles (fluid-filled sacs) inside the ovaries until they mature. Then these oocytes grow and mature into 'ovum or eggs'. 
As a foetus, you might have had around 4-6 million eggs, which reduces to around 1-2 million eggs at birth.  Every month, around 10,000 eggs die, which leaves only 3,00,000 – 4,00,000 eggs around puberty.
What happens after puberty?
After puberty, the mature follicles start becoming sensitive to the hormones that play an important role in menstruation. Every month your body selects a group of eggs to ovulate. One egg among that will become dominant and the follicle it lies within is ovulated that month, representing the chance to conceive that cycle. All the other eggs in that group undergo atresia and perish. This way, you lose about 1000 eggs every month.
If you are a woman in your 20s you must definitely be aware of the biological clock, or atleast running out of it. This is because you are at your most fertile during your 20s through your mid-30s. Fertility rates drop off after the age of 35 years old until menopause. After menopause, it is not possible to get pregnant naturally.
How Many Eggs Remain in Your 30's?
The number of eggs a woman has varies from one to another and is influenced by multiple other factors than just age like lifestyle, smoking habits, etc. Some women may be blessed with a rich ovarian reserve. Whereas, others may be diagnosed with primary ovarian insufficiency (POI) and would run out of their eggs in their 30s. 
Studies prove that your chances of conceiving would drops significantly after 32 when you might have around 1,20,000 eggs with 20% chances of conceiving naturally per cycle. However, it declines rapidly even further and at 37, you are estimated to have around 25,000 eggs.
With the rapid decline of the ovarian reserve, it is estimated to have less than 10,000 eggs by 40 years of age. The chances of conceiving are slim, only 5%.
You must also understand that the older you turn, the quality of the eggs also drop as old age is associated with oocyte abnormalities.
However, the rise of technology has blessed the world with assisted reproductive technology like IVF, to conceive even after 40.
Is Menopause the End for the Eggs?
Yes. A woman's body has no more viable eggs left, the oestrogen levels start to decline as a woman goes through menopause in her late 40s or early 50s. You will ultimately bid goodbye to your menstrual cycle and will no longer ovulate.
How Many Eggs Are Present in the Embryo?
Let's say you won your biological clock and conceived. What happens? How many eggs are involved?
Let's see.
During conception, a sperm wins the battle and fuses with your dominant egg. The process is called fertilisation. If the egg is fertilised on its journey down the fallopian tube, it lodges in the thickened womb lining, starts dividing and evolves into an embryo.
Multiple births are more common due to the advancing average age of mothers and the rise in assisted reproductive techniques. Twins account for over 90 per cent of multiple births. There are two types of twins – identical (monozygotic) and fraternal (dizygotic).
To form identical twins, one egg splits and develops into two babies with exactly the same genes. Whereas in non-identical twins, two eggs are fertilised by 2 different sperms producing two genetically different children, more or less like siblings born at the same time.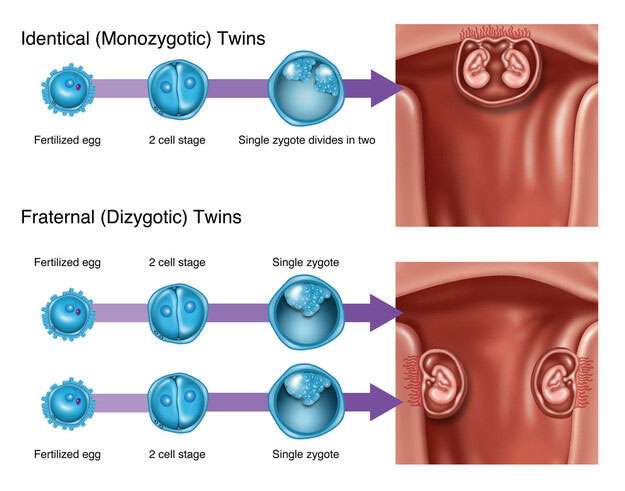 In the case of triplets, they could form the same two ways as twins. But, there is another way where one embryo splits resulting in twins and another embryo gets fertilised separately. 
Coming back to the question, 'How many eggs are there in the embryo?'.
Well, the math is simple. In all cases, it is either one or two eggs in the embryo after fertilisation.